HATE HOAX : Racist Note At St. Olaf College Was Fabricated to 'Draw Attention to Campus Climate'
Another "hate Crime" proven to be a hoax. This time out of St. Olaf, a "liberal arts" College in Northfield, Minnesota. The Fake note found by Samantha Wells, a student at the school was shared on social media causing enraged students to block entrances to the cafeteria in protest.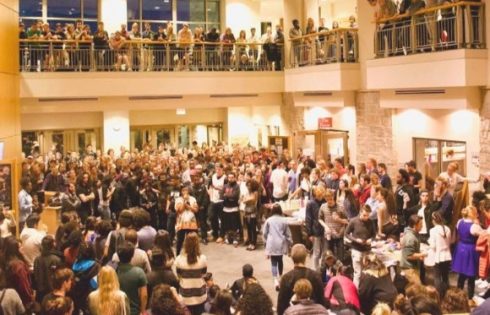 From The College Fix:
A note that used the n-word and threatened a black female student at St. Olaf College — sparking an intense protest that led to classes being shut down for a day as student demonstrators accused the school of institutional racism — "was not a genuine threat," the school's president said Wednesday.
President David Anderson said in an email to students that an investigation into the note identified a person of interest "who confessed to writing the note."
"We've confirmed that this was not a genuine threat. We're confident that there is no ongoing threat from this incident to individuals or the community as a whole," he said.
In a second campuswide email sent later Wednesday, Anderson used stronger words to explain what happened: "The reason I said in my earlier note that this was not a genuine threat is that we learned from the author's confession that the note was fabricated. It was apparently a strategy to draw attention to concerns about the campus climate."
Anderson, citing federal student privacy laws, did not identify the person of interest nor use the term hate-crime hoax, but his announcements essentially confirm what some students have said privately to themselves ever since the chaos erupted at the rural Southern Minnesota campus earlier this month.
Around the same time Anderson made the announcement Wednesday, the black female student who initially told everyone she found the note on her car that used the n-word and threatened her announced on social media "I will be saying it was a hoax."
The typewritten note had stated: "I am so glad that you are leaving soon. One less [n-word] that this school has to deal with. You have spoken up too much. You will change nothing. Shut up or I will shut you up."
Read the full story –> Here! and Here!
Follow Adam Chagnon  on Twitter for updates and commentary here! –> @ABadBoii